Following on from the overwhelming success of the 'Send via Outlook' option, we have taken this feature one step further by adding a new 'Output Option' to 'Create Outlook Email'. 
This feature creates a new email message directly in the users local Outlook application and populates it with the various outputs selected, such as the PDF Attachment, ICS files and the Email body.
Simply select the Create Outlook Email option (in the list of Output Options)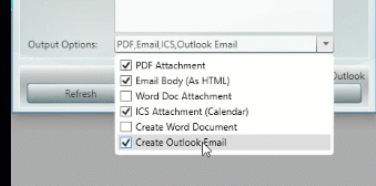 Once open in Outlook, users are then free to edit the email before hitting Send.  This feature also allows users to take advantage of their saved Outlook Contacts as email addresses can be typed/selected directly in Outlook rather than on the Itin To X interface.
If your agency wishes to take advantage of this new feature, please get in contact with us via support@navitas.co.uk
Please note: As with our other output options, this new feature is a chargeable add on to the normal Itin to X licence fee.