With a number of our users now working from home, and no longer accessing tools via a server in the office, we are often asked how PNR Watcher can be updated to communicate with a database on the users C: drive, rather than a shared network drive
To do this, save a copy of the PNR Watcher database (PNRWatcher.mdb) from your shared Server location on to the users C: drive. We recommend best practice that you create a folder in C:\Navitas called PNR Watcher (if the user is running the Admin module, they will already have this directory).
Next go to the config file - this is located in the C:\Navitas folder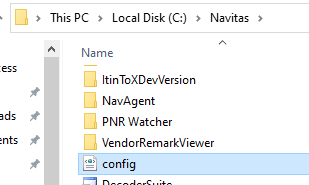 Edit this file so that the new PNR Watcher database location is shown and save. This must be done for each user.
You must remember to send each user a copy of the database every time a change is made to a rule - otherwise they will not be seeing these changes. The user must replace the existing database file that is stored locally